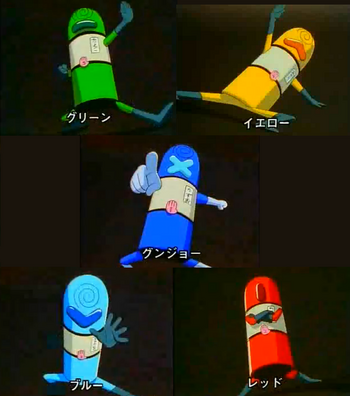 The Otete Sentai Yubi Rangers (お手手戦隊指レンジャー
)
are 5 super villains in cylindrical suits, each of a different color. On their debut appearance, They formed a giant hand, but this was dropped almost immediately after their debut. They challenged the (then) 5 superheroes to a Hero Tournament--a huge colluseum battle between super heroes--and the first one out of three in the whole series. They reveal themselves throughout the tournament. In the end, all of the rangers were killed/beaten except for
Tensaiman
, who donned Oya Yubi Gunjo's suit. They were all led by Yotchan, a black cloaked version of the series' main enemy at the time, Yonaoshiman. But when Yotchan's cover was blown by Tensaiman's Kaa attack, Tensaiman also teamed up with the five heroes to defeat him. After their victory, the bond became permanent, and Luckyman had 3 more friends to help fight aliens on Earth.
The Finger Rangers
Edit
Koyubi Green (小指グリーン/Green Little Ranger) -- Speedman--acts as the little finger.
Kusuri Yubi Yellow (薬指イエロー/Yellow Ring Ranger) -- Slimeman--acts as the ring finger.
Naka Yubi Blue (中指ブルー /Blue Middle Ranger) -- Powerman--acts as the middle finger.
Ninsashi Yubi Red (人差し指レッド/Red Trigger Ranger) -- Kotetsuman--acts as the index finger, or trigger finger.
Oya Yubi Gunjo (親指グンジョー /Ultramarine Thumb Ranger) -- Tensaiman--acts as the thumb, and is the leader of the team.